Trees and Forest
The research group works with biology of woody plants, and their function in forest and forest management.
The area of interest covers establishment of native and exotic tree species, growth and growth conditions, carbon allocation, competition and interaction with symbionts and antagonists. The overall goal is to strengthen the sustainable benefits of trees and forest in view of new climatic challenges, such as changing hydrology and changing species interaction. The group participates in monitoring status and changes in Danish forests with respect to biological quality.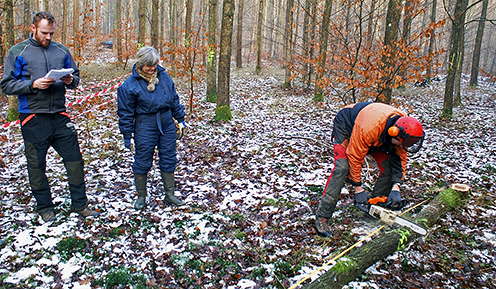 Long term cultivation and management experiments (Common Gardens) constitute the basis of much of our activity  but we also make short-term ecophysiological experiments. The tools employed include biometrics, growth modelling, quantitative plant anatomy, and various physiological indicators.
Head of Research Group
Hanne Nina Rasmussen
Senior researcher, Ph.D., D.Sc.
Phone: 35331703
Mobile: 20950549
E-mail: hnr@ign.ku.dk