Copenhagen Landscape Lectures: Architecture in the Ecological Crisis
Public lecture by Feifei Zhou, Associate Lecturer, University of the Arts London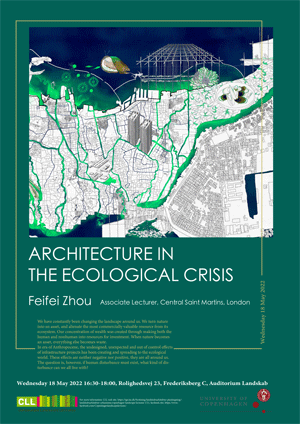 We have constantly been changing the landscape around us. We turn nature into an asset, and alienate the most commercially valuable resource from its ecosystem. Our concentration of wealth was created through making both the human and nonhuman into resources for investment. When nature becomes an asset, everything else becomes waste.
The lecture will discuss interrogation of man-made disturbances to the ecological environment from movement of goods in our increasingly globalized economy. The conventional methods of mapping need to be experimented and challenged in the spatial research of Anthropocene from a more than human perspective. In era of Anthropocene, the undesigned, unexpected and out of control effects of infrastructure projects has been creating and spreading to the ecological world. These effects are neither negative nor positive, they are all around us. The question is, however, if human disturbance must exist, what kind of disturbance can we all live with?
After the lecture and discussions, everyone is invited to an informal reception.

Looking forward to seeing you!
Find mere information på: https://feifeizhou.com/
Læs mere på: CLL web side og CLL facebook side
About Feifei Zhou

Feifei Zhou is a Chinese-born spatial and visual designer. She currently teaches MA and BA Architecture at Central Saint Martins, London. Zhou's work explores spatial, cultural, and ecological impacts of the industrialized built and natural environment, using narrative-based spatial analysis, and close collaboration with scientists. She was a guest researcher at Aarhus University Research on the Anthropocene (AURA), during which she co-edited the digital publication Feral Atlas: The More-than-Human Anthropocene (Stanford University Press, 2020).