Carpenters learn how to build with straw and hemp
In the coming years, carpenter apprentices at the country's vocational schools will learn new sustainable and climate-friendly construction methods in a project led by the University of Copenhagen, aimed at accelerating the green transition in the construction industry.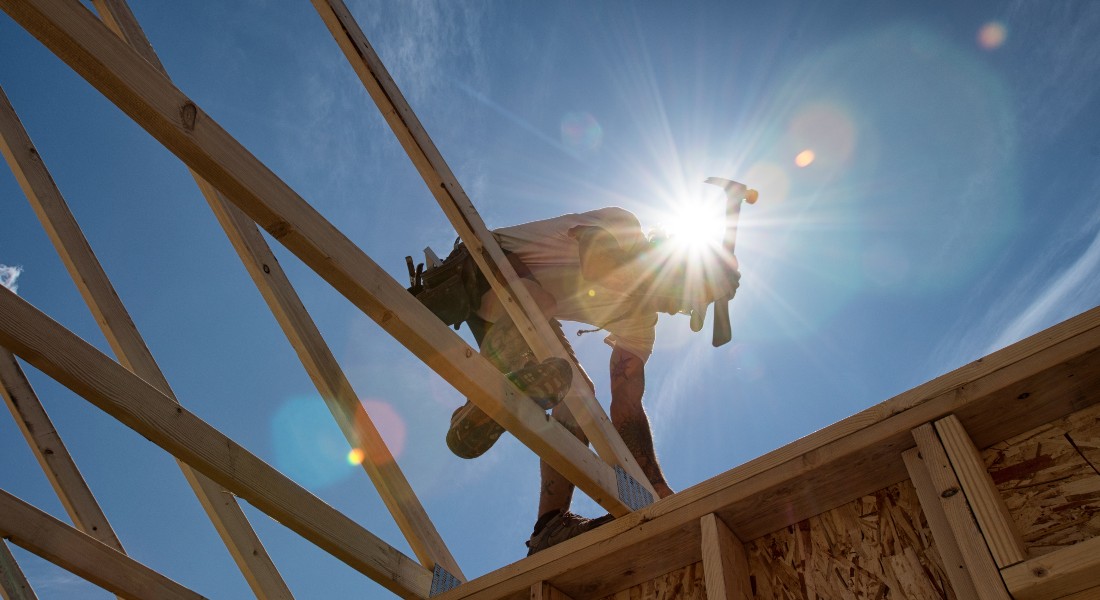 Using straw and seaweed as insulation and blocks of hemp instead of aerated concrete
The production of traditional building materials accounts for 10-15 percent of the world's CO2 emissions. Therefore, we need to think in new and green ways of constructing houses in order to preserve the planet's resources and limit our CO2 emissions.
And that's precisely what researchers from the University of Copenhagen and Aalborg University are working on in a new project, which, in collaboration with the country's carpentry education programs, aims to introduce new sustainable building materials and methods into construction within a few years.
The green transition of the construction industry needs to be accelerated, and carpenters constitute the largest group of craftsmen in the country. Their knowledge and expertise are crucial for driving the transition, making it sensible to start with them," 
The researchers, in collaboration with vocational schools, will teach carpenter apprentices to use so-called biogenic materials such as wood, seaweed, reeds, straw, and hemp in construction. In addition to having a lower carbon footprint than traditional building materials, these biogenic materials contain carbon captured from the atmosphere.
Biogenic materials can transform new buildings into a carbon reservoir, capable of storing the same amount of carbon annually as is currently emitted from our annual consumption of concrete alone," 
The researchers and carpenters will, among other things, develop a new type of exterior wall that does not contain concrete or conventional insulation materials like fiberglass or mineral wool. The exterior wall also does not have a plastic vapor barrier; instead, it is constructed with materials such as wood on the outer side and blocks of densely compressed hemp, straw, or wood fibers as insulation.
We need to develop and test several new types of building materials and structures in close collaboration with educators and students at vocational schools. This way, we ensure that the solutions are healthy and robust while making sense in the construction process, enabling them to be quickly adopted by craftsmen in society,"
The project connects research directly with education, as carpenter apprentices at vocational schools will construct wall elements equipped with measuring instruments and integrate them into a test house. In the test house, researchers can collect data and assess the effects of different seasons, temperatures, and the intended purpose of the house. Moisture will be a particular focus, as there is a significant difference in moisture impact between a house inhabited by a family and, for instance, a storage hall.
"An ordinary family in a single-family house generates a lot of moisture in their daily activities, such as cooking or bathing. This moisture can penetrate the exterior walls and lead to mold or rot growth. We need to avoid this in the new way of constructing exterior walls by controlling moisture movement," 
According to the researchers, one of the significant challenges when introducing new ways of building houses is that it often takes a long time before the new methods become accepted building practices and part of what is called common technical knowledge, which is considered good and robust Danish construction practice. This is typically a requirement for insurance companies to cover constructions.
The test house, therefore, plays a crucial role in showing much faster than usual whether materials and construction methods are effective. Normally, it can take many years of testing a new construction method among craftsmen in the field before the experiences translate into new guidelines or what is known as good building practice and common technical knowledge.
Instead of the typical 10 or 20 years it might take for changes in our house construction methods to take hold, the goal is to achieve this in three to four years. During this time, we aim to develop and thoroughly test new designs and materials that can be included in common technical knowledge by combining a scientific approach with craftsmanship," 
And the initiative comes at the right time. From a political perspective, climate requirements for new buildings over 1000 square meters have already been introduced in the Building Regulations from this year. And from 2025, these requirements will apply to all new buildings. The requirements will be tightened rapidly after 2025 to push the construction industry towards a green transition.
The project VIGOT (Knowledge-based Green Transformation of Carpentry Education) will run until the summer of 2026 and is funded by the Novo Nordisk Foundation with over 5.3 million Danish kroner over the next 3.5 years (project number NNF22OC0079020).
The project involves the University of Copenhagen, Aalborg University, VIA University College, Knowledge Center for Crafts, Design, and Architecture (Next), and Knowledge Center for Crafts and Sustainability (Learnmark Horsens). Additionally, the Copenhagen University College of Professional Education is participating as a didactic advisor.
The project aims to enhance STEM competencies in the vocational schools' carpentry education in the fields of building physics and biogenic materials.
The project consists of four main phases:
1. Development and implementation of further education for instructors at a minimum of six vocational schools.
2. Development and execution of teaching modules for apprentices at the participating vocational schools. As part of the teaching, the apprentices will construct wall elements. At least six teaching modules will be conducted during the project, with the wall elements' construction evolving continuously from one module to the next.
3. Testing the moisture properties of the wall elements in a test house. The constructions that prove effective can be swiftly implemented in construction.
4. Continuous evaluation and further development of the teaching modules, so that the vocational schools' knowledge centers can continue the teaching in the best possible form after the project's conclusion.
FUNDED BY
VIGOT has received three years of funding from Novo Nordisk Foundation
PARTICIPANTS IN THE PROJEKCT
Department of Geosciences and Natural Ressource Management, University of Copenhagen
Aalborg University
VIA University College
Knowledge Center for Crafts, Design, and Architecture (Next)
Knowledge Center for Crafts and Sustainability (Learnmark Horsens)  
Copenhagen University College participates as a didactic advisor