Biogeochemistry
The Research Group of Biogeochemistry (in forest and nature under change) study the cycles of water, carbon, nitrogen, phosphorus and other elements in terrestrial ecosystems.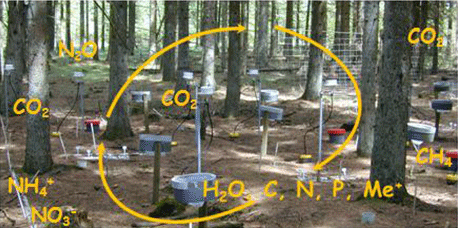 PhD Students
Haifeng Zeng

Leena M. Jaakola
Many of our projects are international and we cooperate with researchers from Europe, China and USA. Researchers from the group lead the Nordic research networks CAR-ES and FSC-sink.
Read more
The research networks CAR-ES 

The research network FSC-sink
We aim to improve the understanding of ecosystem functioning, and specifically focus on how ecosystems will respond to environmental changes and to management actions by quantifying the pools and fluxes of matter in semi-natural and managed ecosystems.
We use the data and understanding to quantify and extrapolate ecosystem service provisioning (e.g. water protection, N retention, C sequestration) under future climate and management scenarios to inform land managers, interest groups and environmental policy.
As an example, we measure the processes behind input and release fluxes in control of soil C stocks to answer questions like: Are Danish forests currently sequestering C in soils? Can we store more C in soils by afforestation of cropland or planting of short-rotation crops on agricultural land and are certain tree species or tree species mixtures better than others in sequestering C?
Our work is mainly experimental and we take advantage of long-term experimental platforms as well as large scale manipulation experiments and microcosm experiments for studies of biogeochemistry related to semi-natural and managed ecosystems. We work at scales from molecule to ecosystem, often with the prospect of extrapolating to landscape or national levels by modeling.
Our research goes beyond national level and we work in collaboration with people from all over Europe and other parts of the world with similar research interest.